Cairo Belly Dance Video from National Geographic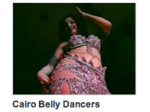 Hello Dancers and Costumers,
Today I've returned to my desk after attending Rakkasah West in Richmond California. I really had a great time enjoying the performances, shopping the dealers and reconnecting with dance friends near and far. Before I sit down to write my Rakkasah Trend Report for 2011, I thought I would take a moment to share with you a really good little video clip from National Geographic.  In an effort to record the cultures of the world, National Geographic has made a series of video clips available on the web featuring such culturally rich ethnographic arts such as music, dance and theater.    I found this clip on Belly Dance in Cairo captures the sentiment of what is happening over there in the world of dance.  Check it out!
Permalink: http://www.davina.us/blog/2011/03/caironatgeo/