Belly Dancer on So You Think You Can Dance
Belly Dancer Janelle Issis makes it to Vegas on
So You Think You Can Dance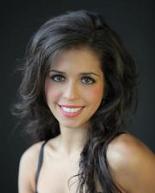 I'm an old dance nerd, and I've been following So You Think You Can Dance since season 1, and have gone to see three of the live touring shows. The audition shows feature the good, the bad, and the "what are they thinking?" which give them an appeal quite different from the final competition.  This season, an excellent young belly dancer auditioned in Atlanta and made it to Vegas, or what what some people refer to as "SYTYCD Boot Camp" – there they winnow the group down to 20 who will compete on the show.
The show ran a really sweet little background piece on Janelle, where you find out details of her dance technique, see her in several stunning costumes, and learn she's Palestinian and living in Birmingham, AL. I love that this brief bio is sensitive, showcases her winning smile and lively personality. But best of all, this piece wasn't one bit salacious – an unfortunate and all too common a practice in popular media. All-in-all, she's a great representative of the latest generation of young rising stars in our field. It's delightful to see a positive and upbeat presentation of our dance form.
Will our belly dancer make it through the rigors of Vegas?
Janelle is super-cute and very talented, so I'm hoping for the best – because I really think she can dance.
~ D
Permalink: http://www.davina.us/blog/2012/06/belly-dancer-so-you-think-you-can-dance/