Video Inspirations – Assiut at Tribal Fest 2012 – Part 1
Assiut at Tribal Fest 2012 – Part 1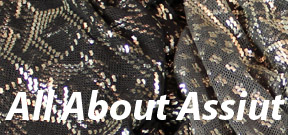 Grab your popcorn and settle in for a trio of videos featuring my #1 current obsession, assiut from the most recent Tribal Fest in Sebastapol, CA. For more information about this event, visit the Tribal Fest official website.
Kami Liddle
Superstar Kami Liddle has crafted a lovely skirt from an assiut shawl without cutting the fabric, To achieve this effect, the shawl is draped around her hips strategically tucked/pinned/snappied it into place at her hipline. This is a great idea if you have a shawl you would like to wear, but aren't ready to cut and sew into a costume.  Find out more about Kami.
Rachel Brice and Illan
Belly Dance Superstar Rachel Brice with her protege Illan of France.  This is a beautifully crafted duet, and a joy to watch.  Rachel is wearing a gorgeous two-toned assiut costume made in the retro-vintage-showgirl style that is currently popular in the world of tribal-fusion costuming.  The shape of the bra and the swag of the blue assiut echo the styles of Erte and other glamorous flapper-era garments.  Note too, how her accessories emphasize the retro-glam feel. More on Rachel here.
Suhaila Salimpour and Bal Anat
Founded by Jamila Salimpour in 1968, Bal Anat has long embraced and used assiut for traditional robes, stylized dance dresses and in hand-crafted bedlah sets.  During their performance at Tribal Fest 2012, you can see how the fabric becomes the unifying element throughout this large group, but each costume is completely unique.  This allows each dancer to have he own identity and still be a member of the group.  Find out more about Suhaila and her studio here.

Permalink: http://www.davina.us/blog/2012/06/video-inspirations-assiut-at-tribal-fest-2012-part-1/