Video Inspirations – Assiut At Tribal Fest 2012 – Part 2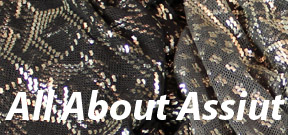 Assiut At Tribal Fest 2012 – Part 2
Tribal Fest is one of my favorite events to go to, hang out at and watch lots of fantastic dancing.  This year, there were many wonderful assiut-clad performers.  Here are three more of my favorites from this year's events.  Check out part 1 for more.
Rachel Brice and Datura
After relocating to Portland and opening her studio Datura, which has become the new epicenter of modern tribal fusion, Rachel Brice has built a troupe featuring an amazing group of talented dancers.  You can spot one of my favorite tribal performers, another Bay Area to Portland transplant, Ashley Lopez amongst these amazing women.  The costuming is lush, silver on black assiut.  The dance – spellbinding.

Sasha
This performance features the supple Sasha, who spent his days of Tribal Fest 2012 wandering around draped in as many as 7 vintage assiut shawls.   A self-proclaimed assiut addict, here he is performing with at least four draped around his body which he tucks and wraps the scarves to preserve them whole while still enjoying the shimmer and swing of wearing them in performance.

Qabila Folkdance Company
The Qabila Folkdance Company brought to the Tribal Fest a more traditional folkloric performance wearing lovely assiut gowns. These ladies performed an upbeat Saidid and Gahwazee Suite with style and gusto. Visit their FaceBook page to connect with this talented group of women.
Permalink: http://www.davina.us/blog/2012/07/video-inspirations-assiut-at-tribal-fest-2012-part-2/