Welcome!
This site is dedicated to the art, science and technique of designing and making Middle Eastern belly dance costumes. My name is Dawn Devine aka Davina and I am the author of several books on designing and making belly dance costumes including, Embellished Bras, Costuming from the Hip, From Turban to Toe Ring and Bedlah, Baubles and Beads. These books contain information and directions for creating beautiful dance wear. My website is a continuation of my love of Middle Eastern dance and costuming.
"Becoming a Belly Dancer: From Student to Stage"  Kickstarter Campaign fully Funded!

We did it!  We wrapped up our Kickstarter campaign and raise a whopping $2809 from 54 generous backers!  Over the next few weeks, we will be reaching out to our Kickstarter backers via the Kickstarter system.  
I'm excited to be working on this as part of a team.  Along with belly dance instructor Sara Shrapnell, photographer Alisha Westerfeld aka Zemira, and international dance star and costume designer Poppy Maya, we've been working for more than a year to bring together the definitive textbook on the subject of preparing for and presenting yourself to the world as a belly dancer.  This book is taking shape.  At 402 pages, and more than 700 photos and rising, it's jammed packed with useful information and "from the trenches" tips and techniques for helping you take your belly dance performance prep and presentation to the next level.
This book should be available on Amazon, and here on my website very soon!  ((BTW: If you are a Kickstarter backer and haven't yet received an email from Sara Shrapnell, visit the Kickstarter page, and look at your messages and you will find your notification.))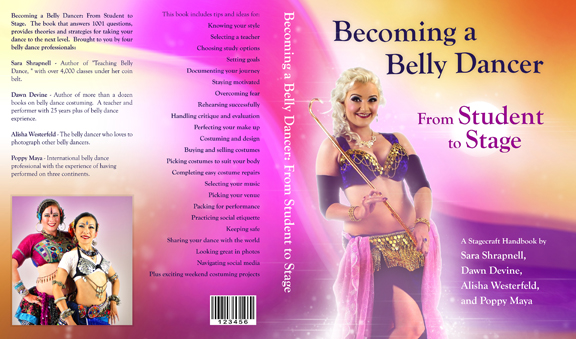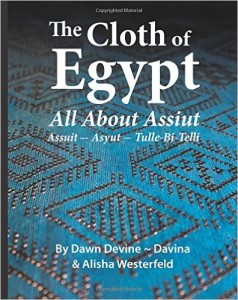 My last book, The Cloth of Egypt: All About Assiut, is devoted to my favorite obsession, the Egyptian metal embroidered cloth Assiut.  It starts out with a brief myth-busting history of the cloth and is followed by practical advice for wear and care of vintage pieces and working with modern fabric to create lovely costume pieces for belly dance attire. Read More
Belly Dance Costumes to Color
This downloadable coloring book is filled with interesting information and stunning line drawings of contemporary belly dance costumes to print out and color with marker or pencil. This eBook is available as an exclusive gift for my newsletter subscribers! Simply sign up for the monthly Costumer's Notes Newsletter!  (Subscription Box is at the top right!)

Do you make your own dance costumes?  Are you a dance teacher looking for tips and ideas to share with your students?  Sign up today!
Permalink: Home