Amabella Magazine is coming soon!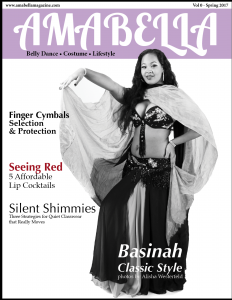 Today I spent five hours working on a new project I'm very excited about, Amabella Magazine.  This is a brand new, all digital, and absolutely free magazine!  We are starting out on ground zero, but our editorial team is the same group I worked with to put together the definitive guide to belly dance development, Becoming a Belly Dancer: From Student to Stage.  Photographer Alisha Westerfeld, belly dance teacher and author, Sara Shrapnell, international belly dancer, author and stylist Poppy Maya and I are working together to create a new style of belly dance magazine.
Our mission is to create useful, inspirational, beautiful and, perhaps best of all free magazine.  We are currently working on developing our website and collecting the content for our V0 issue featuring Bay Area belly dancer Basinah on the cover.  We're still in progress, so this cover is current as of today, but will probably change and evolve as we get our content into the magazine.
Like my first magazine, Costumer's Notes: Behind the Seams, Amabella magazine will be available for free view on the Issuu website, or you can catch it embedded on this website and other websites.  We've already started a subscription list over on the main website, Amabella Magazine.  If you would like to receive notifications of when issues of Amabella are released, just sign up for the newsletter!
This magazine is totally new, so I'm not sure where it will go in the fullness of time.  The focus is belly dance, but beyond that, we are still But for now, we're filling it with the kind of content the Amabella editorial team enjoys reading.  We're working towards filling our new magazine with a combination of interesting and informative information.  Over the next few weeks, I'll be spending quality time at my computer working on the layout and design of this maiden issue.
I'll check back in here when the publication is complete and uploaded to the Issuu website! I'm so pleased and happy, and very excited to take this next step in my publishing journey.
Happy Dance & Costuming,
Dawn Devine ~ Davina
May 19, 2017
Permalink: http://www.davina.us/blog/2017/05/amabella-magazine-is-coming-soon/