Makeup I love, part 1
Daily Makeup Products

31 day belly dance makeup YouTube vlogging challenge
Throughout the month of July, 2016, I've been working on a 31 day vlogging challenge and have been putting together a variety of fantastic looks for attending, mc'ing, and performing in dance shows. In some videos I go into more details than others about the products I choose to use to build the look.  Although there are a few products that I've only used once or twice, most notably, lipstick, there has been a consistent set of basic cosmetics that I turn to again and again throughout this challenge.  Below is a list of the products I've had on my studio work table turned vanity throughout this challenge.  There are a lot of things on this list, but know that I would NEVER wear them all at once!  Because I've changed lipstick and lip liner virtually every day of this challenge, I will be putting together a second list of lip products that I have been using and like.  The list of lip products would be longer than all the rest put together, so they will get their own list.
Because my mandate was to use drugstore and affordable internet cosmetics, I did buy some products untested and found that occasionally, I got something just didn't work out for me.  In the list below, I've only included in this list the products that I really like and that have really worked for me.  So if you see it here, it's been a winner for my over 40 dry skin.   Wanna watch the videos? Check out this YouTube playlist.
Happy Costuming!
Dawn Devine ~ Davina
Aug. 2, 2016
Skin Prep
Boots No7 – Protect & Perfect Advanced Serum
Boots No7 – Protect & Perfect Intense Eye Cream
Garnier – Moisture Rescue Refreshing Gel-Cream for Dry Skin
CeraVe – Sunscreen Face Lotion SPF 50
St. Ives – Timeless Skin Collagen Elastin Moisturizer
Studio Davina – Hydration Spray – with grape seed oil and glycerine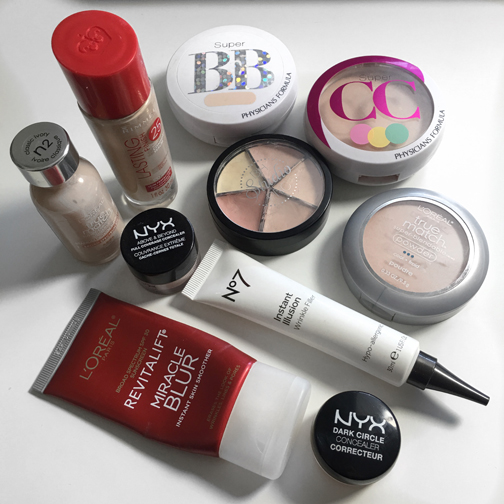 Complexion
L'Oréal – Revitalift Miracle Blur
Boots No7 – Instant Illusion Wrinkle Filler
Rimmel – Lasting Finish Liquid Foundation (Ivory)
L'Oréal – True Match Foundation (N2 Classic Ivory)
Nyx – Dark Circle Concealer (Light)
Nyx – Above & Beyond Full Coverage Concealer (Fair)
BH Cosmetics – Pro Perfecting Concealer (Light)
Physicians Formula – Super BB Compact Cream SPF 30 (Light Medium)
Physicians Formula – Super CC Powder SPF 30 (Light Medium)
L'Oréal – True Match Powder – (C2 Natural Ivory)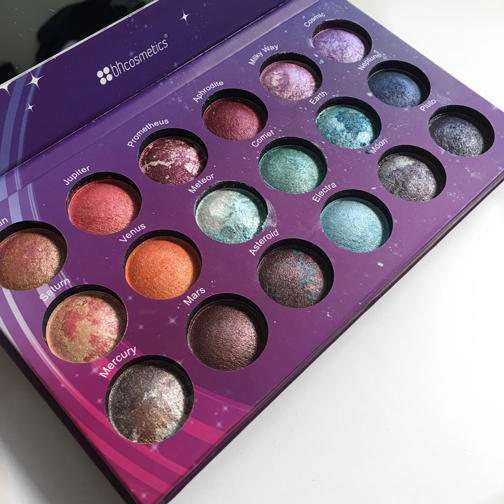 Eye Shadow – Cream Bases and Powders
Nyx – Jumbo Eye Pencil (Various Colors)
LA Girl – HD Pro Primer Eyeshadow Stick (Black, White, and Nude)
Maybelline – Color Tattoo by Eye Studio Metal (Silver Strike)
Wet N' Wild – Color Icon Shadow Palette (Tunnel Vision)
BH Cosmetics – Foil Eyes Palette
BH Cosmetics – Carli Bybel Eyeshadow & Highlighter Palette
BH Cosmetics – Galaxy Chic Baked Eyeshadow Palette
BH Cosmetics – Take me to Brazil Eyeshadow Palette
BH Cosmetics – Wilde & Alluring – Baked Eyeshadow & Highlighter Palette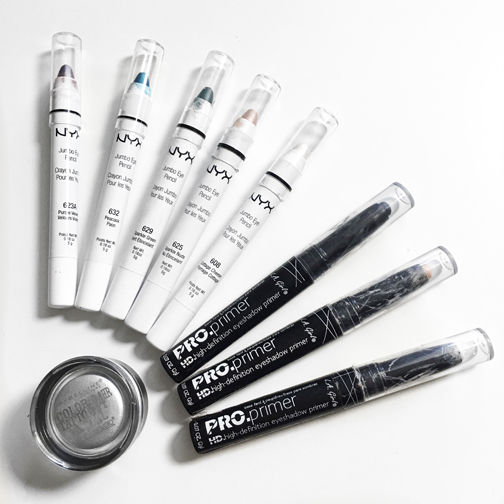 Eye Liner, Brows, Mascara & Lashes
Physicians Formula – Shimmer Strips Eyeliner Trio (Nude Collection and Blue Eye Collection)
Essence – Eyeliner Pen Waterproof – (Deep Black)
L'Oréal – Infallible Gel Lacquer Linter 24 hr (Blackest Black)
Covergirl – The Super Sizer Mascara, Waterproof (Very Black)
Daiso – Assorted Japanese Eyelashes
BH Cosmetics – Studio Pro HD Brow Pencil (Brunette)
Colour Pop – Brow Pencil (Black N' Brown)
Maybelline – Eye Studio Brow Define and Fill Duo (Deep Brown)
L'Oréal – Brow Stylist Plumper Brow Gel Mascara (Medium to Dark)
Blush, Bronzer & Highlighter
Maybelline – Master Glaze Blush – ((All Discontinued 🙁 — sorry))
Makeup Revolution – Ultra Blush & Contour Palette (Sugar & Spice)
Rimmel – Kate Sculpting Kit (001- Golden Sands)
Ulta – Sculpting Palette (Astoria & Rosette)
L'Oréal – True Match Lumi Powder Glow Illuminator (Ice)
ELF – Illuminating Palette
Lips
A list of the lip products used in the 31 day vlogging challenge will be included in its own upcoming post.
Permalink: http://www.davina.us/blog/2016/08/makeup-i-love-part-1/